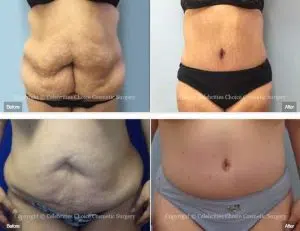 This is a great question. A standard TUMMY TUCK usually refers to a man or woman who has either been overweight, lost weight, had several pregnancies, or now has loose fat and skin of the abdominal wall. Usually, this is between the belly button in the lower pubic area. The abdominal roll.
This procedure is straightforward. It requires a lower abdominal incision usually beginning at the hip bone extending centrally to the pubic hair and then over to the other hip bone. This is the usual TUMMY TUCK scar.
All the tissue is made separate up to the ribs. The table is flex the muscle repair takes place and the excess skin is taken out. This remaining tissue is then inset securely, with the belly button brought out through a new opening. But, in essentially the same location. Wound healing principles apply to the above situation in that good hydration, reduction in activity, and good nutrition are requirements to ensure an uncomplication in wound healing.
Tummy Tuck
The massive weight loss patient has the same challenges. However, because of the damage done to the dermal tissue which is the healing component of the skin wound healing is compromise. Also, if the patient has had bariatric surgery there may be a less essential nutrient absorption. In other words, sometimes post, bariatric patients, have some degree of malabsorption.
The collagen factors in the dermal tissue have permanent damage by over stitching and long-term obesity. Therefore, good healing may take longer and may increase in the incidence of infection. And, may have an increase in the incidence of wound separation as well as less than optimal scars once the incision is in fact heals.
Also, the massive weight loss patients male or female may also require breast, arm, and leg lifts to achieve optimal reconstructive status. Massive weight loss patients have a different psychology. This has to do with where they have been, how heavy they have been, and how they would like to look. This psychological transformation is more prevalent in the massive weight loss patient than in the standard tummy tuck patient. This is because the overall and underlying factors leading to obesity are not present.
In summary, the massive weight loss patient faces a more significant challenge. The challenge lies in the psyche, anatomic improvement, healing capacity, and risk of complications. We deal with both types. And, with the entire spectrum of body contouring procedures.
BOARD CERTIFIED PLASTIC SURGEON
MEMBER AMERICAN SOCIETY OF AESTHETIC PLASTIC SURGERY