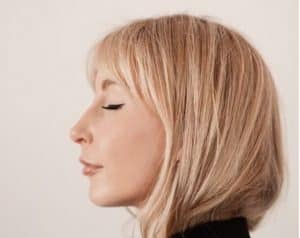 The bony and soft tissue structure of the jawline is a very important and significant component of the aesthetic look of the face. Looking at the jaw from the front. We define the angle as the position of each jawbone as it diverges from the chin. A very wide angle is a very masculine look whereas a very narrow angle is a very weak look.
It's believed that approximately 113° of jaw divergence from the center point of the chin is ideal. One example is Angelina Jolie from the front and Brad Pitt as well as a male representative of a good aesthetic mandible jaw angle.
Jawline
From the side or the lateral view, we measure the distance from the junction of the vertical portion of the jaw and the horizontal portion of the jaw. And, how much it protrudes anteriorly. If the chin is recessed, then we evaluate the bite. If the bite is normal and the chin recedes then a chin implant or some augmentation of the chin would improve the profile.
If the jaw protrudes excessively then there are procedures to address this defect so that the profile becomes more attractive. Therefore, we examine the jaw angle from looking from the front and there are measures like fillers that can widen this weakened appearance. If the profile is weak or strong this can be addressed as well. These treatments may include skin removal, muscle tightening, liposuction as well as potential bony adjustments or implants.
BOARD-CERTIFIED PLASTIC SURGEON
MEMBER OF THE AMERICAN SOCIETY OF AESTHETIC PLASTIC SURGERY