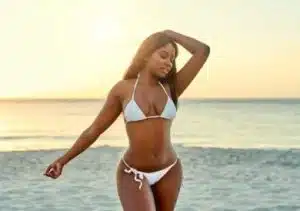 In the fashion industry, there are four types of female figures: rectangular, inverted triangle, pear, and hourglass figure. The hourglass figure refers to the female body shape like a timing device called an hourglass.
It's wide at the top, or the bust area, very narrow in the middle of the waist area, and then wider at the bottom area or the hip area. The classic female figure of 34-inch bust, 24-inch waist, and 34-inch hips. It's thought that with a narrow waist and full hips, this classically has been more attractive to men over the years.
This of course is very variable and subject to individual taste. The factors that go into creating these proportions include breast size. We can have some input through breast implants, lift, or reduction. Furthermore, liposuction may be performed to reduce the waist area. As well as other contouring procedures to address the hips. Pelvic bone structure and rib structure contribute to this anatomic configuration.
Hourglass Figure
Liposuction of the flanks and abdomen can help reduce the waist. Breast surgery can address the upper part including breast implants if needed. If there is much loose skin and fat in the abdomen I've had great success producing an hourglass figure with tummy tuck and muscle tightening. This is in combination with strategic liposuction in some instances. If the saddlebag area is full – liposuction here can improve this contour helping to achieve the hourglass figure. In addition, fat can be transferred to the hip areas that need more volume. So, breast anatomy, inherent waste measurement, and hip measurements contribute to the hourglass appearance.
In some very drastic situations where waste reduction is even further required the 11th and 12th ribs can be removed. We have found over the years dealing with thousands of patients that the better we look the better we feel, and the more attractive we believe we are the happier we are in life.
BOARD-CERTIFICATION PLASTIC SURGEON
MEMBER OF THE AMERICAN SOCIETY OF AESTHETIC PLASTIC SURGERY