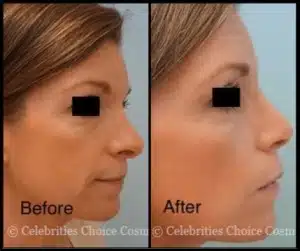 A droopy nose or nasal ptosis is loosely by definition the angle between the lip and the nose less than 100°on a female and less than 90° on a male. Now these measurements have some degree of flexibility especially in the female. For example, an angle of 90 to 95° and a woman can be very attractive depending upon the remainder of her facial features and her height and overall structure.
Suffice it to say that the first time is the best time to get the best result. Nasal droop does occur as a primary condition. When it does it is slightly less of a challenge than if it occurs after rhinoplasty. It is essential in all instances but especially with rhinoplasty to select a surgeon who has a commitment to rhinoplasty. And has the greatest knowledge, experience, skill, and training.
You can evaluate this by researching and visiting the before-and-after gallery for rhinoplasty primary and revision. The structures in the nose contribute to the nasal position of our many. However, when a rhinoplasty has been done the original tip supporting structures have been irrevocably altered. Therefore, it's essential to have a good working knowledge of anatomy and a clear vision of how we would like that position to improve.
Rhinoplasty
A comprehensive physical exam including measurements is essential. My technique for this challenging issue – that is the droopy tip after rhinoplasty is done elsewhere – requires an internal approach. And, sculpting that tip including rotation upward by a reliable way to support the tip in its new position.
I utilize different cartilage grafting methods to achieve this support. Hopefully, if the primary is done correctly to drop may not occur. However, every patient heals differently, and healing -is unpredictable. In short, nasal droop after rhinoplasty elsewhere is a challenge. But I feel the development of reliable techniques to satisfactorily rotate the tip upward and provide long-term support.
Revision Rhinoplasty
The aesthetic portion of plastic surgery is the most challenging. Plastic surgery is both a science and an art/artistry. We have a dedication to the creation of safe and optimal results. Rhinoplasty has always been the most challenging procedure we offer because it is the epitome of artistry. After careful consideration and discussion with the patient, complete and thorough knowledge of the nose is a requirement, and a clear vision of what the result must look like. This is most challenging with revision rhinoplasty work.
The patients we see for revision rhinoplasty are unhappy with the nose result from previous attempts. We spend considerable time – both my staff and I to get to know them well. If we accept them as a patient our hope and goal is to achieve the safest best result and put to rest their dissatisfaction with their nose. This process is unquestionably challenging.
By the time the preliminary evaluations are done, and the patient has made a decision to go forward with surgery I have a clear vision of the result. The patient is given the information that because of internal scar tissue and in most instances lack of cartilaginous and possibly bony structure the perfect result is not achievable. However, if I do not feel and believe that I can achieve a noticeable improvement in the nasal structure then I will reject the person as a patient.
We have one of the most extensive before and after galleries for rhinoplasty, primary, revision, and ethnic nose jobs.
BOARD-CERTIFICATION PLASTIC SURGEON
MEMBER OF THE AMERICAN SOCIETY OF AESTHETIC PLASTIC SURGERY