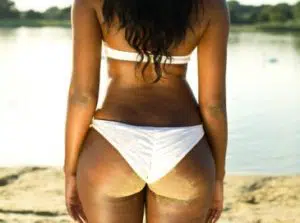 The term BBL refers to the transfer of fat from areas of the body to the buttocks. It's not truly a medical term but more of a slang term derived historically from the reference by plastic surgeons to Brazil. Technically it stands for a Brazilian butt lift.
Ironically, it is not about lift but a gluteal or butt augmentation. Harvesting fat from areas of the body and transferring it to recipient sites needing volume has been in use for some time. The transfer of fat from one area of the body to the face has achieved a handy and useful place in the cosmetic surgery world.
BBL or Brazilian Butt Lift
Unfortunately, this cannot be said for fat transfer to the buttocks. The harvesting of the fat is not the problem. The challenge we face is that the reinjection of the fat into the buttock area can create the accumulation of fat into the venous system of the buttock area which then can flow to the lungs and create fat emboli. Fat emboli can be deadly. Professional plastic surgery organizations have studied the problems, particularly the deaths that have been associated with transfer to the buttock area, and have estimated that one patient in 3000 may die from a BBL.
Therefore, it is essential that patients considering a transfer to the buttock area be made aware of the risks they face with this procedure. Gluteal implants are in my opinion a reasonable alternative to fat transfer to the buttock area if a patient is truly and highly motivated to improve the volume of the buttock area.
Gluteal implants have their own inherent risks but do not share the risk of death to the extent that fat transfer to the buttock area or BBL presents.
THOMAS TREVISANI, MD
BOARD-CERTIFIED PLASTIC SURGEON
MEMBER OF AMERICAN SOCIETY OF AESTHETIC PLASTIC SURGERY