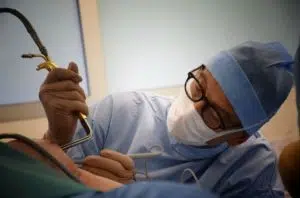 The short answer is this, saline implants do not pose an immediate health risk when they deflate. Historically saline implants were devised as an alternative to silicone gel. During the early 90s, there was a breast implant scare and for a while, all implants were banned. Saline implants came back first and soon followed silicone gel implants' return.
Only textured implants to my knowledge have been associated with large-cell lymphoma. This is a type of cancer of the body linked to textured implants. As far as I know, smooth saline implants as well as smooth silicone implants are not associated with any breast or body cancer.
Saline Deflation
The saline implant has a structural problem at the valve. Typically saline implants are packaged empty and are filled by the surgeon at the time of implantation into the body. There've also been reports of mold growing in the sterile water which fills the implant. Deflation of the sterile water per se usually does not cause any difficulties to the patient. This excess fluid in the breast pocket is absorbed and metabolized and excreted by normal body mechanisms.
The other issue with deflation is that the empty implant causes the pocket to shrink around it and therefore requires re-establishment of the pocket when exploitation and re-augmentation are performed. Therefore, again the deflation of a saline implant is usually not dangerous.
In Our practice, we stopped offering saline because we feel the silicone/ gummy bear implant quality today offers the patient a much more natural feeling and looking breast implant. Therefore, we use silicone gel.
BOARD-CERTIFIED PLASTIC SURGEON
MEMBER OF THE AMERICAN SOCIETY OF AESTHETIC PLASTIC SURGERY