LIP AUGMENTATION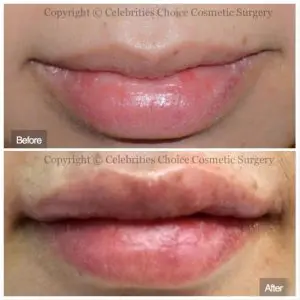 It is said that the lips are the focal point of facial beauty. I happen to think that the nose goes along with that but will talk about the lips first. The relationship between the upper and lower lip is that the lower lip is usually 1.2 to 1.6 times larger than the upper lip. Some women like their upper and lower lips to match and that's why for lip augmentation we have fillers such as Juvederm, Restylane, and others.
When it comes to lip augmentation there are many things that we can do to improve the attractiveness of
lips
. The line or the white roll separating the red of the upper lip and the skin is shaped like a bow – that is a bow and arrow fixture. It is believed that Cupid – the God of love created this line and this junction to enhance the attractiveness between the sexes.
The configuration or shape of this bow can vary from person to person. Also, the distance from the nose to the upper lip should be 11 to 13 mm. This indentation or dip directly under the nose is called the
PHILTRUM DIMPLE
. This infra-nasal indentation or depression can be of different sizes and in some instances different shapes. The cleft lip patient may not have a filter from dimple at all. The arch of Cupid's bow can be enhanced with fillers. The depression or the PHILTRUM  dimple is separated from the rest of the lip by columns or lines that are slightly higher and are ridges.
SHORTENING THE LIP
If the distance from the nose to the lip is too long, there is a surgical way to shorten it.  The scar can be strategically placed to be not very noticeable. Also, fillers strategically placed can also plump up all aspects of the lip in increasing its attractiveness.
LENGTHENING THE LIP
As stated lip augmentation for lengthening and plumping procedures are focused on fillers. Different fillers do different things creating different looks. The aesthetics and anatomy of this all-important area of the face have gained tremendous importance and attention – more so than Cupid could ever imagine.
THOMAS P. TREVISANI, MD
BOARD CERTIFIED PLASTIC SURGEON