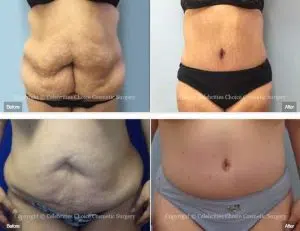 Tummy tuck or abdominoplasty is a beneficial procedure to improve the contour of the abdominal wall focusing on removing excess skin and fat that the patient feels are unwanted. A tummy tuck or abdominoplasty is a procedure designed to improve your quality of life and improve your abdominal area, waistline, and overall figure. Candidates for this procedure are individuals who have lost a significant amount of weight and or have had multiple pregnancies experiencing substantial skin laxity of the abdominal wall.
Tummy Tuck
The best way to address these issues is to surgically remove them. That may sound easy but it requires a level of knowledge, experience, skill, and training found only in the hands of a board-certified Plastic Surgeon. Redesigning the body is comparable to a fashion designer creating elegant clothing. The most reliable way to achieve this redesigning process is a surgical procedure.
Now if excess skin is not present. And, the amount of fat is minimal. Then laparoscopic techniques may be considered to understand their significant limitation. Using a small incision and a lighted camera – tightening of muscles may be feasible. Overall, however- an expert surgeon who performs abdominoplasty will have very limited use for laparoscopic methods to achieve the best result. Hopefully, removing the excess hanging skin and fat of the lower abdomen by state-of-the-art surgical techniques will produce a much more streamlined and flatter abdominal wall. Keep in mind that there is such a thing as visceral fat. This is the fat inside the abdominal cavity. It contributes to the outward bulge or convexity of the upper abdominal wall. And,  it will not show improvement with a tummy tuck.
This is a very rewarding operation enhancing the quality of life.
BOARD-CERTIFIED PLASTIC SURGEON
MEMBER OF AMERICAN SOCIETY OF AESTHETIC PLASTIC SURGERY