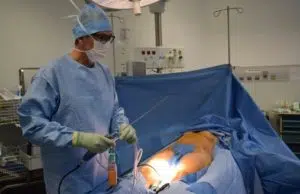 Staging multiple procedures and cosmetic surgery is quite prevalent. Often the complexity and length of a particular procedure may preclude performing others at the same time. Prioritizing is the key to this type of surgical procedure staging. Most often it is advantageous to perform multiple procedures simultaneously. Cost and other factors may preclude this.
Most commonly breast improvement, whether it lifts, reduction, implants, or a combination as well as a tummy tuck can safely be performed simultaneously. I encourage this. It saves time, recovery, and some costs.
With massive weight loss patients, arm lifts and thigh lifts can be done as a second stage. Since we have performed the breast reconstruction and the tummy tuck or lower body lift. In the second stage, the patients then are more educated as to risks, benefits, and recovery. Weight loss patients may also need liposuction and a neck lift.
Rhinoplasty patients, which usually are a younger age group, may also desire improvement of breast simultaneously. This can be performed safely at the same time. But staging may be necessary. So, with multiple procedures prioritization is essential. Then safety and costs. In our practice, we require multiple procedure patients to stay at the overnight observation unit with a nurse in attendance.
In summary, it's beneficial under certain circumstances to perform procedures simultaneously when factors preclude this then staging is desirable and recommended.
BOARD-CERTIFIED PLASTIC SURGEON
MEMBER OF AMERICAN SOCIETY OF AESTHETIC PLASTIC SURGERY