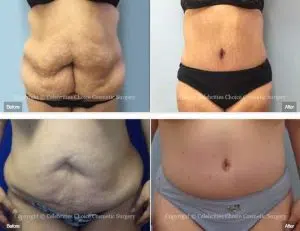 Tummy tuck or abdominoplasty is a very useful procedure to improve the contour of the abdominal wall focusing on removing excess skin and fat that the patient feels are unwanted. A very large tummy tuck is referred to as a panniculectomy. Often the rectus muscle is repaired as well. This can add a significant improvement to the abdominal wall by tightening this muscle.
It's not required however to achieve the best result in some cases. So, therefore, the answer to the question is yes, you can have a tummy tuck or abdominoplasty without muscle repair. With very large patients who are morbidly obese removal of the lower skin and fat is usually the most impressive and desired procedure with or without muscle repair.
Multiple pregnancies tend to distort the normal anatomy of the rectus muscle and create a separation of the two medial borders of this muscle which can be sutured closer together to improve the overall result. This however is not necessary in some very large cases, as a result, may not be visible.
Tummy Tuck
Often with very large hanging skin and fat in obese patients removal of this lower abdominal skin and fat will serve as an impetus to lose more weight and improve the overall health and appearance of the patient. To maximize safety, we prefer to do our procedures at a certified outpatient procedure affiliated with the local large hospital. We require significant preoperative clearances, which include chest x-ray EKG, and multiple labs to determine suitability for this very impressive procedure.
Also, we require these patients to stay overnight in an observation facility to maximize safety and avoid any immediate postoperative burden on the family to render postoperative care during this crucial period of recovery.
We take great pride in our focus on safety and the absolute maximum best result. As stated previously tummy tuck or abdominoplasty is a very special and fulfilling procedure when performed on the right patient by a trained qualified surgeon.
BOARD-CERTIFIED PLASTIC SURGEON
MEMBER OF AMERICAN SOCIETY OF AESTHETIC PLASTIC SURGERY