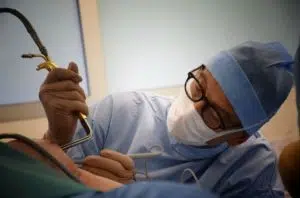 Cosmetic breast surgery is perhaps the most common procedure sought by women throughout the world. During my consultation for breast augmentation or breast implant, cosmetic surgery in general several steps are followed.
First is a discussion with the patient about their goals. Then a complete and thorough physical exam. If the patient has very little breast tissue and wishes for larger breasts then a straightforward breast augmentation may be indicated.
Implant size is determined by what can the patient safely have and their wishes. Often the patient has options for size consistent with their goals for how they would like to look. Breast augmentation requires that the patient have an adequate amount of tissue. And this may be the limiting factor regarding implant size.
Breast Implant Size
If on the other hand patient has an excessive amount of breast tissue and is sagging, then the indicated procedure may be a breast lift with or without implants. So, to answer the above question breast implant size will not avoid a lift. I'll repeat breast implant size will not take the place of a lift if the breasts are saggy and especially if the nipples point downward.
Women know when their breasts are saggy but as a surgeon, we can give it an objective definition. If the distance from the sternal notch or the area between the collarbones and the right and left nipples is greater than approximately 22 to 23 cm then there may be some sag. The definitive definition is if the nipples point down. They should not do this in the ideal aesthetic Breast. This is the indication for a mastopexy or breast lift. Implant size will not lift the breast.
Only a well-executed mastopexy will create the aesthetic breast which may be assisted by an implant after the lift is performed usually at the same operative time. Furthermore, if the diameter of the areola or the area around the nipple is excessively wide then it can be refashioned to a more aesthetic dimension along with the breast lift.
BOARD-CERTIFIED PLASTIC SURGEON
MEMBER OF AMERICAN SOCIETY OF AESTHETIC PLASTIC SURGERY