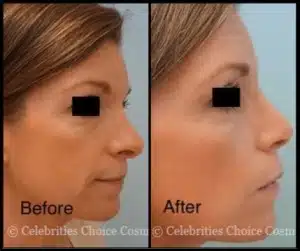 The nose in our practice has an extraordinary place. As we previously discussed we perform our nose job surgeries dedicated to the safest and best result. We achieve this by extensive preoperative evaluation, measurements, and discussion with the patient. Although the function is essential, most people present with a need and desire for a better-looking nose.
In modern culture and civil society aesthetics are essential in all aspects of life and its important relationships. Especially with the relationship we have with ourselves.
There is an ancient science of faith reading called PHYSIOGNOMISTS. Theoretically, there is a relationship between your nose and your personality. Personally, I do not put much belief in this concept except for interesting theoretical discussions. There are many articles and diagrams of different types of noses one of them being the so-called button nose.
The Button Nose
Some say this is the cutest type of nose to have. I'm not exactly sure what that means. I would rather describe a woman's nose as elegant or at least an attempt to achieve a level of elegance consistent with her overall presentation to the world. There are specific structures that achieve the essential relationships that must exist in the nose to achieve that elegant look.
Length, middle third with, tipped definition, tip to lift distance, tip to a lower groove distance or to projection nostril shape and base width. These must all come together in the optimal fashion and importantly the thickness of the skin must shrink wrap over the new structure in a uniform fashion.
The button concept in my opinion is not appropriate for a glamour-oriented woman who wishes her nose to portray the elegance of the inner self. Therefore, I offer that instead of the term button we achieve elegance. Remember elegance is an attitude and style is its voice. That's why we us which pictures or pictures of noses that the patient likes to achieve a window into their personal style. For men, the same process only the goal is a masculine strong nose with optimal relationships and dimensions. Therefore, elegance is the goal for women. Masculinity is the goal for men in a safe optimal environment.
We have one of the most extensive before and after galleries for rhinoplasty, primary, revision, and ethnic nose jobs.
BOARD-CERTIFICATION PLASTIC SURGEON
MEMBER OF THE AMERICAN SOCIETY OF AESTHETIC PLASTIC SURGERY