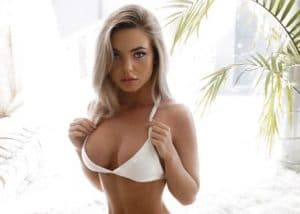 Breast augmentation and rhinoplasty are two of the most popular and sought after procedures in my practice. During the consultation, I am very thorough. And, I take measurements in detail both of the nose and of the breast. Our goal is always to achieve the most natural-looking anatomic changes possible. Keeping in mind that rhinoplasty and plastic surgery, in general, is a creative art form. It takes years of experience to achieve consistent best results.
Each procedure has its own method of evaluation and often the patient who seeks both has a very specific vision in mind. It is my goal to tap into and share that vision so that I may proceed surgically to achieve it. In my practice, I use very inconspicuous incision sites to achieve both anatomic changes. For example, I will perform rhinoplasty through the inside of the nose so there is no visible scar unless there is a nostril or base adjustment in which case the incision is in the large groove where the nostril meets the cheek.
Breast Augmentation and Rhinoplasty
I offer inframammary or periareolar incisions for breast augmentation. Both can be situated very inconspicuously and usually heal very well. It's more of a challenge to perform a submuscular implant through periareolar incision but in skilled hands, it can be done.
My goal with rhinoplasty whether it be primary or revision is to achieve the most elegant result possible for a female and the most masculine nose for the male. Silicone breast implants are safe and preferred over saline in my practice. The consistency or firmness of the gel comes in several different forms all intended to minimize wrinkling. I use Allergan implants, and they offer a very good warranty program.
It's very advantageous and convenient for the patient who seeks both to have breast augmentation and rhinoplasty performed at the same time. This saves on recovery time and anesthesia costs. So yes, having a rhinoplasty and a breast augmentation at the same time is possible. It is permissible and preferred if both are desired.
THOMAS TREVISANI, MD
BOARD CERTIFIED PLASTIC SURGEON
MEMBER AMERICAN SOCIETY OF AESTHETIC PLASTIC SURGERY