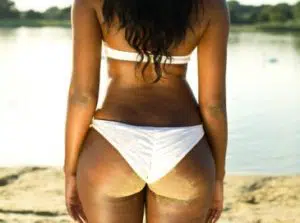 The term BBL or Brazilian butt lift is not a true medical term. It was created a while ago by surgeons who were performing fat transfer to the buttock area as a buttock augmentation procedure. It has evolved to become a standard procedure to achieve a more aesthetic buttock.
In our culture the anatomic appearance of the buttocks both in clothing and without has great aesthetic value. There is no indication anytime soon that a less than attractive buttocks will be popular. In patients with adequate donor fat – transfer from the fuller fat containing areas can be a very desirable procedure.
The term board-certified plastic surgeon can be abused. And, it can lead to confusion by the cosmetic surgery consumer. For example, ENT doctors call themselves board-certified plastic surgeons. However, they do not do fat transfer to the buttocks. A so-called cosmetic surgeon – self-declared –  is not a board-certified plastic surgeon but may offer for transfer fat to the buttocks.
BBL or Brazilian Butt Lift
As a consumer it is essential that you inquire deeply about the qualifications of your BBL doctor. Board certification in plastic and reconstructive surgery as well as membership in the aesthetic society is your best protection against complications and death with a BBL. The reason is that these two organizations have done the most extensive and definitive studies regarding complications and death from BBL. Irregularities can occur in both the donor and recipient sites.
These irregularities can be very challenging to correct. Furthermore, they are best treated by avoiding them in the first place. The death rate for BBL has been as high as one in 3000. The above-mentioned organizations study the causes by attending autopsies for those unfortunate patients. Those who did not survive a BBL procedure. The overwhelming conclusion is that injection of the fat into the muscle itself is the most likely cause of fat emboli which causes the deaths. It is essential that the fat injection only go in the subcutaneous area and not into the muscle. The literature in these studies are most likely to be read by board-certified plastic surgeons.
Because cosmetic surgery can be very lucrative and not covered by insurance untrained unqualified and inexperienced individuals are drawn to this field. But I cannot emphasize enough how essential it is to have your procedures done by the most qualified people.  Which in my opinion are board-certified plastic surgeons.
THOMAS TREVISANI, MD
BOARD CERTIFIED PLASTIC SURGEON
MEMBER AMERICAN SOCIETY OF AESTHETIC PLASTIC SURGERY