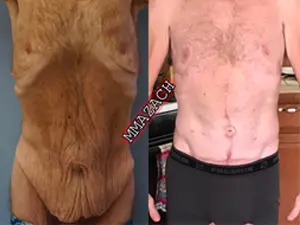 Bariatric medicine is the science of caring for weight loss in individuals both medically and surgically. Imagine carrying around a fourth of a small car. While it may sound strange, some of us are so overweight that it's like carrying around that much excess. Furthermore, the strain that extra weight puts on the internal organs is enormous and dangerous. After repeated unsuccessful attempts at diet and exercise a patient may decide to have a bariatric operation. There are many different weight loss options offered by bariatric surgeons. Bariatric surgeons are very skilled and talented surgeons that create a change in the anatomy in order to alter food absorbtion. In this situation an individual must undergo a major body transformation. This requires a drastic identifiable and profound change in lifestyle and attitude.
Body Sculpting After Weight Loss
As a result of weight loss – and often the pounds melt off quickly, the skin becomes unsightly and as much of a liability as the obesity. Post bariatric reconstruction is surgery to trim off and sculpt these patients. That is quite a mouthful. It is a very specific and challenging procedure that consists of trimming off excess skin and some additional fat.  Consequently achieving the goal of  the figure and body that resides beneath this excess skin and fat.
Orlando Skin Removal Surgery
In central Florida and Orlando we offer post bariatric reconstruction or skin removal after weight loss. Before an operation we must evaluate a patient's suitability for surgery and maximize safety. Therefore, chest x-ray, EKG, extensive lab tests, and clearances from all prescribing physicians is necessary. This is vital to maximizing the patient's safety.  After a preoperative evaluation is complete and skin removal design is finalized surgery is implemented under general anesthesia.
The procedure itself follows after detailed measurements and a study of the area takes place. For the female patient our goal is obviously to achieve a full perky breast. Often times in the male significant chest sag is present after massive weight loss and the redesign of the male breast can be just as great of a challenge.
Panniculectomy
PANNUS is when the skin contains a moderate amount of fat and hangs quite low possibly even down to the mid thighs. PANNICULECTOMY is the removal of this excess skin.
Tucking the Arms and Thighs
Excess skin around the arms and thighs can also sag significantly after massive weight loss and post bariatric arm and thigh lifts is the removal of this excess skin.
Body Redesign and Sculpting
Helping redesign and sculpt a patient's body after weight loss is both fulfilling for the patient and the surgeon. It  requires a commitment to lifestyle change and a visualization of a new self on the horizon. This new self is the real self uncovered by the weight loss in the sculpting process.
Real Life – Not a Reality TV Show
Keep in mind that these are major operations which require very skilled professionals. There is an identifiable difference between the surgery and the medicine that we see on television. It takes time to determine best operative design. It takes discussion of risks and benefits. An awareness of potential complications is necessary. A full understanding of the time requirements, too. Sometimes a year or more is necessary to complete  all of the healing stages. Do your homework, review testimonials, view before-and-after galleries before making a decision.